Our Blog
3 Tips for Painting a Front Door To Increase Curb Appeal
General
Monday, March 16, 2020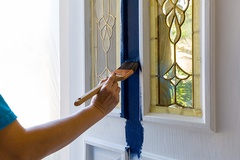 An excellent and affordable way to give your home a brand new look is to give your front door a fresh coat of paint. You need a free weekend, paint and supplies, and lots of patience to get it done!
Painting your front door is an excellent DIY task and...
Finish reading 3 Tips for Painting a Front Door To Increase Curb Appeal...
Estimated reading time: 2 minutes, 5 seconds